Web Exclusive
Love dairy history? Need a refresher on your favorite frozen dessert? This handy infographic from The Washington Post has you covered.
If you're an ice cream novice, if you're in need of a refresher course or if you like to freestyle in the recipe department, this might be the help you've been waiting for: base recipes, current standards for various frozen desserts and tips for serving and storing. You may never dip into a store-bought container again.

Photo by The Washington Post
Ice Cream: An Infographic
Take your pecan ice cream up a notch: start with a base of browned butter.
This is the ice cream that made us forget our evening plans.
It is a better-than-classic butter pecan ice cream, made with browned butter, brown sugar, and roasted pecans. It is based on Jeni's Splendid Blank Canvas, although I have altered it a bit.
Get the recipe
Photo by Food52
Browned Butter Pecan Ice Cream
Hipster problem #501: you just refilled your growler, but it's so hard to bike home with 64 ounces of craft beer hanging off one side of your handlebars! You may be in luck -- a new bike concept has been developed with YOU in mind.
For those that opt out of commuting in a car in lieu of a bike, the Growler City Bike is perfect for you. While still a "concept bike" the idea is a great one. This is a creation of jruiter + studio, and meant to change the idea of what you can do with the modern bike. The feature list includes 29er fat wheel set, monarch springer front end, 2 speed internal kickback hub, disc brakes. Oh, and a place for 64 delicious ounces of your favorite brew.
Read More
Photo by J. Ruiter
A New Bike Concept with Your Beer in Mind
A burger is only as good as the cheese you top (or stuff) it with. Stephanie Stiavetti at Serious Eats dishes on her favorite (artisan!) cheeses to add to burgers, plus how to craft a patty so juicy, everyone will be asking for the recipe.
You can have the best beef known to mankind, you can have the freshest bun crisped perfectly on the grill, and you can even have thick slices of farm-fresh organic tomatoes pulled that very morning crowning the whole ordeal. But, in my book, if you deface all that goodness with a slice of Velveeta (or similarly soulless "processed cheese food"), the whole thing collapses into a puddle of disappointing dairy dregs.
Read More
Photo by Stephanie Stiavetti
The Ultimate Cheese-Filled Beef and Pork Burger
"The Snack that Smiles Back" is now available in the flavor of a great American classic: Mac and Cheese. This new line of Goldfish will come in four different flavors: Butter Parmesan, Cheddar, Cheesy Pizza, and Nacho Cheese.
"Just like mac and cheese, the Goldfish brand is adored by children and adults alike, so it made perfect sense for us to add the fun and wholesomeness of Goldfish to this favorite classic food."
Photo by Goldfish

Pepperidge Farm Premieres New Goldfish Mac and Cheese Flavor
Sassy Cow Creamery was started five years ago in Wisconsin by James and Robert Baerwolf, two farmers competing with big dairy corporations for the milk market. It wasn't easy, but Sassy Cow found success catering to those who want to buy from a family-owned farm that's local and trustworthy.
Sassy Cow Connects Consumers to Farm
Okay, we're just gonna say one thing about this grilled cheese: there's fried zucchini in there. Inside the fried sandwich. Can you handle this?
I really wanted to call this fried zucchini grilled cheese but I thought you might throw something at me. Fried stuff inside a grilled cheese? Whaaaaaaaat. How are we even friends. But but but – you can BAKE the crispy zucchini (on a wire rack, just like how I did the chicken yesterday) and use whole wheat bread and well, there you have it folks: HEALTH FOOD.
Crispy Zucchini Grilled Cheese with Dijon Horseradish Aioli
If your state was represented by alcohol instead of politicians, what would your state's representative be? Check out this infographic map to find out.
Last month, the Dallas-based writer, photographer, and artist put together the wildly buzzy Corporate States of America map, with the logo of each of state's most notable company shoehorned in between its boundaries. We noticed that only two were alcohol outfits, which drove us to create another map plotting the biggest/most high-profile liquor or beer companies from each of the 50. We know there are at least infinity amazing craft breweries in each of these states, but this map's about the big boys, at least when there are big boys to be noted.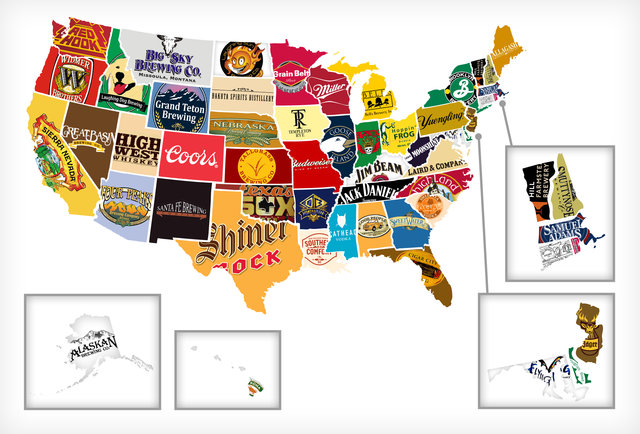 Mapping All 50 States' Most Iconic Beer and Liquor
You don't need to be a kid to host (or enjoy) an ice cream party -- and Bon Appetit is here to prove it.
This summer's best frozen treats don't require an ice cream maker. To upgrade the store-bought stuff into irresistible desserts for kids of all ages, we turned to the country's top scoop shops
Read More
Barbara L. Hanson via Compfight cc
Making their debut this July with a grilled cheese-centered premise, Melt will be the newest addition to restaurants in Towson, Maryland.
"The team at Melt wanted to provide the same quality ingredients and preparation customers could find in a nice restaurant, but in this economy, we wanted to take that idea and put it in a vessel that's humble and fairly inexpensive."
Photo Credit:foonus via Compfight cc
Melt: New Grilled Cheese Shop in Maryland