Cheese
October 2, 2013 - 11:00am | by katherine
Each week we scan our Facebook and Twitter pages for photos submitted by our fans. For your chance to be featured on our blog, post a delicious, cheesy image to facebook.com/culturecheesemag or twitter.com/culturecheese.
---
Best. Birthday Gift. Ever. Culture fan, Alishia, submitted this winning photo of a cheese "cake" she made for her fiance's 30th birthday. We are now taking this brilliant idea into serious consideration for all future office birthday celebrations.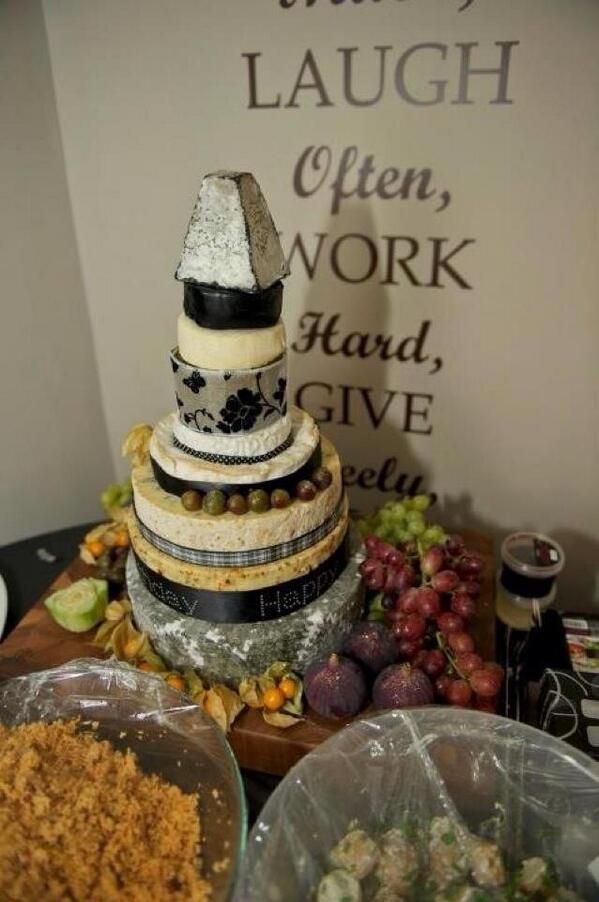 October 1, 2013 - 2:00pm | by katherine
Each week, culture intern Katherine will scour great works of literature for all the cheesy details your English teacher never showed you. Authors often include many mentions of food and drink in their written works to give the reader a small glimpse into the culture and historical foodways of a particular place and era. Sometimes the author writes about food with a generous pen, describing a dish in great detail. But more often than not, these great literary works skip over such ordinary details, leaving the reader to figure it out on their own. These blog posts will lend the reader a helping hand and shed some light on the cheeses between the lines of the literary greats.
September 11, 2013 - 1:35pm | by katherine
Each week we scan our Facebook page for photos submitted by our fans. For your chance to be featured on our blog, post a delicious, cheesy image to facebook.com/culturecheesemag.
---
We love a good mac n' cheese, but sometimes the dish needs a little something extra, or a little lagniappe as our Fan Photo Winner, Lisa, might say. This week's winning photo is a sultry, crumbly close up of a baked mac n' cheese stuffed with creole-spiced shrimp. And, you're in luck, not only did our winner share a photo, but also a cheesy recipe too! Find it on her blog, Creole Contessa.
July 1, 2013 - 1:29pm | by taylor_p
This past Friday was the grand opening event for Zensen Sushi Express. Becoming the newest addition to sushi restaurants on Durant Ave., one of Berkeley's go-to food spots, Zensen reeled in enough customers to have customers line out of the door to get in. My friends and I had to wait over 45 minutes just to get seated because the place was so popular! It could have been the novelty of the revolving conveyor belt that wove around the entire restaurant that served sushi right to your table, or the fact that all sushi plates were $1.00; but it could have also been Zensen's unique use of American cheese slices on their sushi.
June 19, 2013 - 2:07pm | by taylor_p
My second day of work was a blast. Can you guess why? Well, obviously from the title, you can deduce that yes-- there was a party. More specifically, it was our launch party to celebrate the release of the new Beer and Cheese: Perfect Pairings Guide for Kindle and iTunes. I've never participated in anything resembling a cheese tasting before-- unless you count those coveted sampling tables at the super market-- and was so excited to arrive at the office and find it filled with boxes of large cheeses and a myriad of beers!
April 25, 2013 - 6:23pm | by seana and marissa
I am happy to report that our building permit is FINALED! It was Aristotle who said "patience is bitter, but its fruit is sweet." Yeah...I wonder if he endured a creamery build-out, because that pretty much sums up what it is like. Just to recap, we started the permitting process with the County of Marin back in September 2012; they finally issued a building permit to us on January 15th; we were done building the creamery and got licensed by the state of California 40 days later on Feb. 23rd; it took another 60 days after that to wrap up the septic issues in order to get the final blessing from the county; so from permit issuance to permit final, it took exactly 100 days. The County of Marin has lifted all the holds, done their last site inspection, and given their final approval, closing the book on this project once and for all....at least as far as they are concerned. We, on the other hand, still have a long to-do list!
April 1, 2013 - 6:24pm | by seana and marissa
Yes the creamery is almost done for real, no April Fool's joke! It's been quite a while since I last posted about our creamery project. Valentine's Day has come and gone, the annual California Artisan Cheese Festival is behind us, and I survived another birthday last week. In between all of that, we've been busy trying to wrap up this creamery project once and for all so we can focus on making cheese! I know the creamery will never really be DONE done, I'm not completely delusional. There will always be something - some new or unanticipated problem or need, always requiring more time, more energy, and more money, all of which are running pretty low for us right now. It's been 75 days since getting our building permit, and so much has happened, I don't know where to start. I have both good news and bad news. Which do you want first? Let's start with the good.
February 13, 2013 - 10:15am | by wfertman
Once again, true love found a whey in our 2013 cheese-love poetry contest.
As usual, entries spanned from the impish to the outright racy, but in the end, three were chosen:
wendyleek was the soul of brevity with her three line pun-fest, while Coffee Lover charmed some of our judges with her innocent simplicity. Finally, monger Gordon Edgar's elegant sestina took the prize for its deeply felt examination of a life working in cheese.
February 5, 2013 - 9:41pm | by seana and marissa
It's been 20 days since we finally got the building permit, and there hasn't been an idle day since. After all those months of waiting and trying to navigate through red tape and overcome bureaucracy, it's actually happening. The creamery is really coming to life. The action has been fast and furious as we rush to bring the creamery into a functional state. We are pretty much working at a pace that pushes the limits of our budget, and especially our physical and mental stamina. Our muscles & joints have ached in new and interesting places, and we've only sustained minor cuts and bruises. It's amazing though how the body can be so dead-tired, but the mind keeps racing. Well, mine does anyway. To paraphrase the lyrics of "Gin & Juice," one of the greatest rap songs of all time: I've got my mind on my cheese and my cheese on my mind. Here is a recap of the big accomplishments of the past 20 days…
February 2, 2013 - 7:16pm | by mollymk
It's a new year here at Georges Mill Farm, and one we are sure will be filled with exciting new things- including opening our doors as a licensed creamery! In the whirlwind of researching and buying materials, the holidays, the arrival of new goats at the farm, moving, and the various everyday crises and solutions that come with all of that, 2012 completely got away from me. And just when I felt like I had finally gotten used to it being January, its already February! Time is flying by, which is both exciting and scary for me as I look forward to opening in a couple of months, and then think about all that still must be done.