Hoch Ybrig
Producer

Rolf Beeler (Affineur)

Country

Switzerland

Region

Kussnacht

Size

12-14 ins diameter, 3-4 ins high

Weight

15 lbs

Website

Milk

Cow


Classification

Firm


Rennet

Animal


Rind

Washed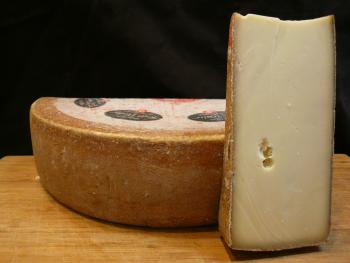 Made from raw cow's milk in the town of Kussnacht in North Central Switzerland, Hoch Ybrig is a classic Swiss mountain cheese patterned after Switzerland's famous Gruyère.

Created in the 1980s, Hoch Ybrig is a fairly new cheese and is made in only one dairy.

Milk comes from several small local herds of Simmental cows and is not pasteurized. During production, curds are cooked and pressed. This process expels more whey and creates the dense, tight texture characteristic of mountain cheeses.

Finished wheels of Hoch Ybrig weigh approximately 16lbs., considerably less than the 80lb. Gruyère. The smaller size has two main advantages: the wheels are easier for retailers to manage and they also age faster. Hoch Ybrig is usually released at eight months of age, whereas the best Gruyères are matured for up to 16-20 months.

Hoch Ybrig is selected and matured by famous Swiss affineur Rolf Beeler. Wheels imported into the United States are brough in by Swiss native, Caroline Hostettler, who likes to keep them until they're at least a year old. Throughout their maturation, the wheels are washed with brine that contains white wine, which, Hostettler claims, creates the cheese's sweet finish.

At one year, the interior paste of the cheese is a deep, golden straw color, becoming slightly darker towards the rind, which is thin and dark-ochre in color.

The texture is very smooth, dense and slightly supple. There are occasional holes, or "eyes,"' and some cheeses develop a few crunchy granules that are the result of crystallized amino acids.

Flavors of Hoch Ybrig are concentrated and sweet, with a perfect, fine balance of salt and acidity. There are also definitive caramel and butterscotch notes.