Chabichou du Poitou PDO
Producer

Various

Country

France

Region

Poitou-Charentes

Size

1.5 ins diameter,2.5 ins high

Weight

6 oz

Website

Milk

Goat


Treatment

Pasteurised
Raw


Classification

Semi Soft


Rennet

Vegetable


Rind

Mold Ripened


Style

Soft-Ripened (Brie-like)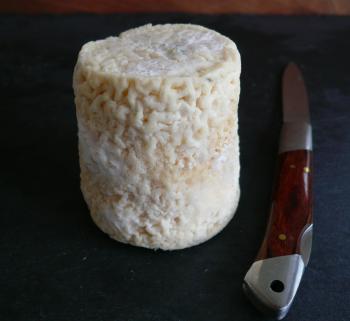 Have you ever seen a chèvre as cute as this tiny tower? All fluff and wrinkles, Chabichou du Poitou is an AOP-certified fermier ("farmstead") goat's milk cheese from France.
It's mainly produced by farmers or cheese retailers around France's Poitou-Charentes region—and hard to find elsewhere. This area has been long renowned for high-quality goat cheese production. Goats were first introduced here with the arrival of the Saracens in the eighth century, together with their goats and their recipes for cheeses. Fortunately for us, both the goats and the cheese knowledge remained after the invaders were forced out.
Chabichou du Poitou is made in both raw and pasteurized milk versions, although only the pasteurized version is allowed to be sold in the United States.
The cheese is usually released at a minimum age of two weeks. Some are matured beyond this and enjoyed is enjoyed at five to six weeks. Shaped like a small cylinder, they have wrinkled natural rinds, sometimes dotted with the occasional gray patch, a result of Geotrichum candidum mold.
Tasting Notes
The interior texture is dense-yet-velvety at the center when young, with a fresh, clean, and mildly-sweet goaty tang. With age it develops a chalky or flinty texture, with more piquant goat-like flavors and nuttiness.
Pairings
Pair it with a Champagne or with walnut honey.